Where is the box for this? POS software helps retailers find the box!
Mark on February 24, 2014 6:24 AM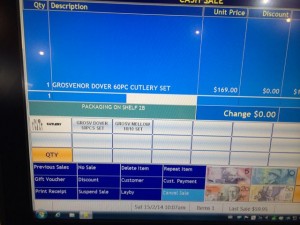 Retailers using our smart POS software are able to have the software indicate on the sales screen when scanning an item where the box for the item is located in-store. This is invaluable at a busy sales counter and in a business where casual employees are used. It helps anyone at the counter find the box or pother packaging quickly and easily. It shows the business as being professional.
Our Point of Sale software has offered this facility for many years. It's a tiny part of what our software does yet for some retailers that we do this is huge – tremendously valuable. It's all about helping retailers save time. It's also about helping them enjoy their businesses more. This function reduces stress.