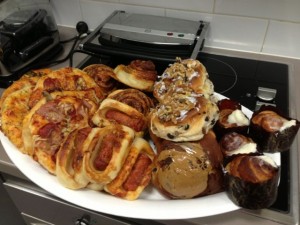 Fifteen years after we started providing free breakfast on a Friday to our team members the tradition continues. The photo shows the selection available today – a mix of savory and sweet pastries fresh this morning from our local Brumbys small business bakery.
This Friday breakfast selection is in addition to an excellent range of biscuits available every day and five different blends from our commercial nespresso coffee machine. IT people need to fuel up, on a Friday especially.
Trials of ShopBot, our shop floor robot, indicate that we will meet the commercial target release of June this year. Retail staff are set to be a thing of the past with the Point of Sale software integrated ShopBot.  Besides selling product and taking payment from the shop floor, ShopBot will automatically order from suppliers and network with other ShopBots to track and apprehend would-be shoplifters. Retailers will be able to deploy ShopBot for the cost of 10% of an employee's wage for a year.
For more, click here.