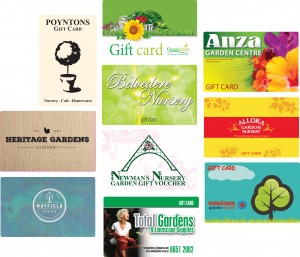 The Tower Systems designed and manufactured gift cards are growing in popularity across a range of retail channels. We are thrilled to be of service to retailers keen to offer professional gift cards backed by professional gift card management software as they have access to through their smart and engaged Tower Systems POS software.
The latest design customer gift cards are being shipped right now – pitching fresh designs to retail partners in time for Christmas trade.
The image loaded with this post shows some of the cards we have designed for our garden centre customers.
We are grateful to have in-house graphic design capabilities through which we can promote deeper engagement with our software.