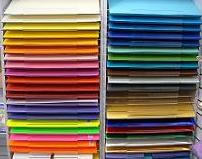 Cardboard is fundamental to our newsagent customers.
While some barcode cardboard, most do not because they do not want to damage the product with an adhesive label. We have addressed this by delivering easy to use touch screen technology which is colour, size and grade of paper based.
We have an easy to setup template which includes touch buttons read for our users to implement.
Stores which track sales by colour are reporting interesting results which are driving further sales increases. This is what we are trying to facilitate with setup help like this – sales growth based on clever management of data.