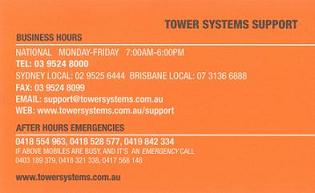 We are only as good as our last support call. It's a mantra within Tower Systems.
As users of our software ourselves in six of our own retail businesses we personally know the value of easy access to good quality support.
This is why we staff our National Help Desk six days a week and publish six after hours numbers for 24/7 access.
The orange card in the photo is being sent this week to all of our users. It's the third time we have sent this card out in the last year. We ask that it is placed on the wall next to the phone. The card lists local numbers for our users in Melbourne, Sydney and Brisbane as well as email access points, and our 24/7 access points. It also lists my number as a demonstration of our commitment.
We also list the numbers on our website, weekly email bulletin and our monthly snail mail newsletter.
We stopped using answering machines years ago and pay a premium to have messages taken by an operator in one of our mobile phones is out of range or on a call. There is no substitute for human contact when you're looking for assistance.