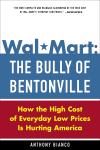 I have just finished reading The Bully of Bentonville by Anthony Bianco. This is a fascinating and upsetting book. Fascinating because it chronicles the growth of the massive Wal-Mart retail business from its small town roots. Upsetting because it chronicles systematic appalling treatment of suppliers and employees by Wal-Mart.
But there is more to the story than the behaviour of Wal-Mart itself. There are many guilty players outed in The Bully of Bentonville.
While it is easy to blame Wal-Mart for appalling treatment of employees and suppliers, it is various levels of government which have allowed this company to wreck the economic and personal damage now being catalogued by Bianco and others. It is also the consumers who flock to Wal-Mart every day for their low prices who tell Wal-Mart they are prepared to accept the economic costs of their model.
As a retailer, I'm in awe of the power thei exert over suppliers on price. As a consumer, the deals they offer are enticing. As a citizen, I abhor the sub-standard wages they pay, the way they manipulate the system for unfair tax breaks and the supplier and competitor businesses they drive out of business.