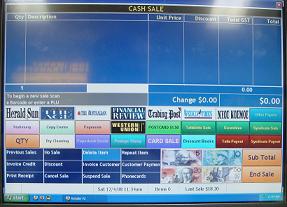 I spent a couple of hours behind the counter yesterday at one of my newsagencies. We needed extra hands on deck because of the lottery superdraw. Being a Saturday there were plenty of unusual items sold – the weekend product is more obscure than the weekday mix. Thanks to a smart layout on our touchscreen registers we were able to easily handle the traffic.
Good touchscreen layout is key to fast and accurate processing of sales.
Being able to sell a newspaper with a single touch of the button saves time and improves accuracy. I have seen some newsagents use five or size keystrokes to sell a newspaper. Every keystroke eliminated is gold in retail. Touchscreen beats a regular keyboard every time!
Cardboard, for example, is a breeze with the touch screen. Customers told us they didn't like barcode stickers on cardboard so we created touchscreen buttons to track cardboard sales by size and colour. It's easy and accurate and part of the touchscreen facilities. While this functionality may be a small point to some, others reckon it's just about the best part of the software – being able to easily sell small items which are challenging to barcode.
The photo shows the main point of sale screen on one of the registers at our newsXpress Forest Hill newsagency. we played with this for weeks until we found the product and facility mix which suited our business. Others do it differently. I especially like the fast tender keys – showing notes – as well as the single touch button to manage customer accounts.
The point of sale screen is the heart of the retail counter. From here we have to be able to quickly answer just about any query, process sales, fix mistakes and handle business admin tasks – all with appropriate security.
Owning our own retail businesses has helped us tweak the facilities to improve speed and accuracy.