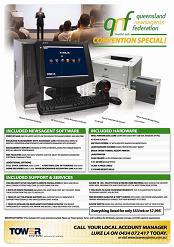 We are proud to be the Platinum Sponsor of the Queensland Newsagents State Conference on Tuesday this week.
Our newsagent conference support is another opportunity to demonstrate practical support for the newsagent channel.
In addition to speaking at the conference – on entrepreneurship – and providing a free laptop computer to one lucky attendee, we have put together a special offer to promote better business management practices among Queensland newsagents.
Now more than ever, suppliers serious about the newsagent channel need to demonstrate their support, to put something back for newsagents.