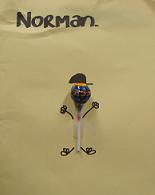 Every week Norman, our Financial Controller, receives a manilla folder with invoices from one of our retail businesses. Renee, who prepares the invoices and the folder for Norman, makes his day. She uses confectionery from the newsagency as the basis for a character on the front of the manilla folder.
This week, on the front of Norman's manilla folder was a Chupa Chup as shown in the photo. Surprisingly, some of us notice the resemblance to Norman, except for the cap.
Now I want some mail of my own.