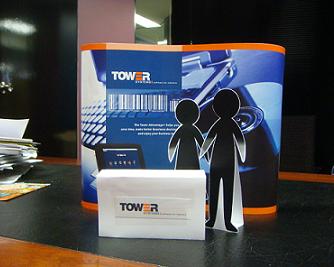 With nine major trade shows over the next four months we are investing considerable time and money into our presentation. Our in-house marketing team has developed a scale model for the stand shell – this is what you can see in the photo. It is the fourth or fifth version of the model.
The scale model helps us determine how we can personalise this canvas for each of the shows. This is important since they are different marketplaces from convenience to gifts to newsagents to jewellers.
The scale model approach is the same we use in developing shop layouts for the retail side of our business. You can develop better outcomes than one dimensional floor plans.
Trade shows are important to us.  For many prospects they are the only window to our business.  How we present our company and its software at the trade show is crucial to sales success at the event.  Too often software companies use cheap trestle tables and white cloths onto which they put a computer.
My sense is that retailers don;t want to buy from IT geeks any more.  They see the software opurchase decisionin as more of a whole of business decision than a geek / technology decision.  Hence the importance of a professional presentation.
We want a trade show stand which accurately reflects what people would see if they visited our offices in person or if they visit our website.