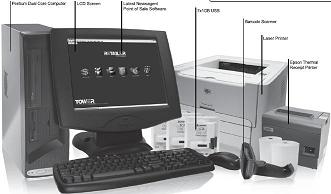 We are attracting considerable interest in our low cost point of sale offer for small newsagents. This $4,995 (inc. GST) package includes a nice and fast computer, Windows XP, laser printer, thermal receipt printer, barcode scanner, LCD screen, cash drawer, newsagent point of sale software, USB sticks for backup, delivery in-store, on site training and a year of software support.
We have been able to get to the $4,995 price point because the size of our business and by trimming margin. The margin trim has been done because of feedback from small newsagents concerned about how they can best respond to the demise of Bill Express. This packages solution includes our eziPass software through which newsagents can access many products previously available through Bill Express.
While low margin business is a challenge, we felt compelled to respond given our public commitment to helping independent small retailers.