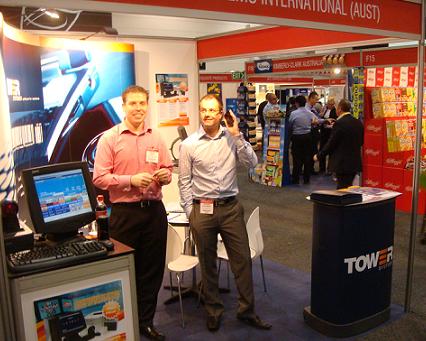 Our stand at C-Store 2008 has been busy since the trade show opened this morning in Melbourne.
In the photo you can see our corner position with two of our sales team – Tim Batt and Nathan Morrison. Nathan is the one with his new iPhone to his ear.
At our C-Store stand we are seeing newsagents and convenience store owners. We are also getting to spend good time with suppliers to these markets. Being an exhibitor gives us time plenty of valuable discussions over the course of the trade show.
UPDATE (10:30PM): The day ended well for us.  More newsagents visited with us as well as some newsagent suppliers.  The decision to take a stand was clearly a good one based on the feedback from the first day.  The other benefit for us is gaining a first hand understanding of the commercial synergy between newsagents and convenience stores.  Some of this will be evident in updates we release over the course of the next year.