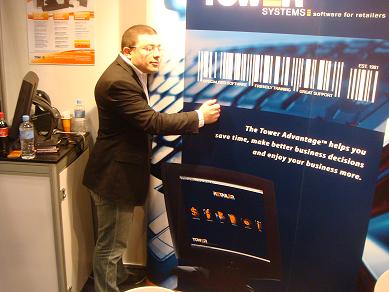 Andrew Halpern, our Marketing Manager, loves his work. He loves the results of his work more as this photo of him embracing the stand he was responsible for developing with Vienna Chen, our gifted in-house designer.
Andrew and Vienna are a powerhouse of a team, creating a variety of marketing collateral for print advertising, product brochures, promotional products, trade show stands and other materials for each of our five marketplaces.
Andrew has every right to embrace the trade show stand.
I took the photo at the C-Store trade show yesterday. Andrew spent time there talking to suppliers and researching the marketplace so that our product collateral better reflects that specific marketplace. Too many software companies make a technology pitch. Our goal is to focus on outcomes specific to each market.