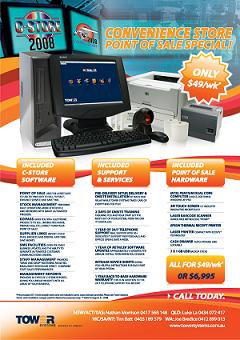 The two days at C-Store in Melbourne late last week proved to be very worthwhile.  We now have some excellent supplier connections which will benefit our convenience channel customers and our newsagency customers.  We also learnt about some aspects of convenience business management which can add value across each of the markets in  which we operate.
The show was also valuable internally for us as we sought to pitch our software in a more accessible way than as a pure technoloigy solution.  Convenience store owners buy technology differently to, say, newsagents and stationery retailers.  The flyer to the left reflects part of the change in approach developed by our marketing department.  The more traditional technology pitch is replaced by colours and other elements which connect the offer to the specific channel.
Diversity is important to software companies like us.  Beyond learning from one market and applying those learning to other markets, there is the benefit of economic balance.  One market may be challenged while another is up.  Also, our team have less chance to become stale and even jaded.  Serving in a limited number of carefully selected marketplaces benefits is in many ways.