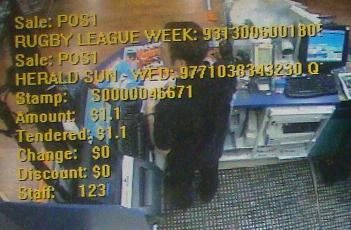 The risk of getting caught is key to cutting theft in retail. Our integrated security / point of sale solution provides greater certainty of capture. As the photo shows, we record items being sold and list them over the vision of the sale. We have offered this link for many years. Our own experience is that the link pays for itself.
Beyond cutting theft, our link also eliminates disputes about amount tendered, when an item was purchased and other queries at the counter. These facilities boost confidence of team members when dealing with difficult customers.
In the back of the shop one can monitor the 8, 16 and even more cameras on the management screen. This is also where we can search the vision based on stock items and other criteria – for when we need to check when an was last sold.
With theft in retail costing between 3% and 5% of sales and a professional security system costing around .5% of gross sales, the financial benefits the point of sale / security system integrated package are obvious.