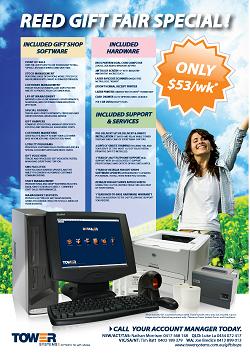 We are all set for the Melbourne Gift Fair which starts today and runs for the next four days. Our marketing team has done a great job creating fresh collateral to promote our gift shop software. Our new collateral, including the brochure shown here, our reports package and the display materials on the stand show that we understand the importance of style in the gift channel. We are not selling technology, we are selling an outcome with which gift shop owners can connect.
Given the number of now newsagents playing in the gift space, we are sure to meet many existing users over the four days. This will provide us an opportunity to demonstrate some of the gift category facilities in our software and to share with them the progress we have made on electronic invoices with gift suppliers.
If you get to the Gift Fair be sure to drop in and say hello.