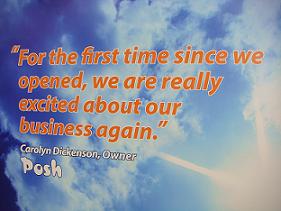 As the Melbourne Gift Fair draws to a close we have been reflecting on the last five days. By several measures, this is the most significant trade show for us in recent years.
We have many high quality new prospects from three marketplaces. We have been successful in bringing many existing customers to the fair and the gift opportunity for the first time. We have new supplier relationships.
Most important of all is what we have learned about the gift space from suppliers and gift shop owners. This information will be invaluable as we extend our reach into more gift shops. We have been in this marketplace for close to two years and are beginning to feel we have a level of understanding which is useful to us and to our customers.
The image is a photo I took of one of our displays on the stand. It features a quote from Carolyn Dickenson of Posh on the Mornington Peninsular in Victoria. This quote is inspirational to us because it reminds us of our mission – to deliver genuine and sustained benefits to our customers.