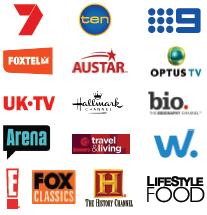 I am proud to announce our funding of a national TV commercial promoting newsagents.  This commercial will run on the stations listed to the left, a good mix of free to air and pay TV.  We have been careful to select a mix which we think will work with the traditional demographic of newsagents and which provides good national reach.
We have been working on this project for the last three months.  It started as a dream and slowly we have been able pull the pieces together, the creative concept, a good ad buy and a script which can connect with all newsagents regardless of the brand under which they trade and the services they offer.
To complete production of the TV commercial we need photos of happy newsagents in front of their shops.  To seek out these photos we wrote to every newsagent in Australia today.  Almost immediately, photos started arriving by email.  Newsagents appear as excited by us by this commercial.
We have the TV airtime booked and are in the home stretch of making the dream a reality.  I am hoping for three key outcomes from this TV commercial.
Greater pride among newsagents and their team members for their channel.
More customers shopping in newsagencies.
Renewed support from other suppliers to newsagents.
From my own newsagencies, I know the challenges of the newsagency channel first hand.  While a TV commercial will not fix these, it has the potential to focus newsagents around the strengths of their unique retail network.