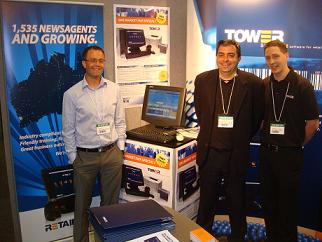 Our stand at the GNS Market Fair in Sydney today was busy from the opening of the show.  With more than 600 newsagent customers in NSW (more in this one state than our nearest competitor has nationally) we always get plenty dropping by to day hello and catch up with our Sydney based team.  The photo shows our NSW/ACT Sales Manager Nathan Morrison on the left and two of our installation and support team, Peter Nikolaros and Luke Matheson, on the right.
We have been doing the GNS Market Fair for around twenty years.  It has grown considerably over the years.  We embrace the opportunity to be in front of existing customers as much as prospects.  This level of public accountability keeps us focused on delivering the goods.
This is trade show number five is a very busy year of trade shows.