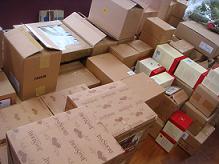 We are currently arriving five pallet loads of stock for our Sophie Randall businesses. The data part is easy thanks to the supplier providing an electronic invoice formatted to our standards. The real work is allocation and tracking of the stock across the stores and physically moving stock. We are undertaking this process in our offices so we can better research opportunities for streamlining arriving and allocating stock to multiple stores.  With more small business owners owning multiple store, knowledge of the operation is essential for us.
While the work is considerable, the learning gives us a wonderful advantage – we are able to have various team members observe and even participate.
There is no better learning for a software developer or a software trainer than using the software they are responsible for.