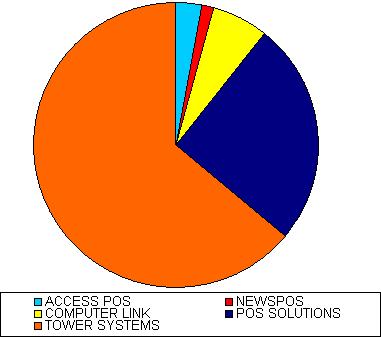 More than 50% of all newsagents with a newsagency point of sale system use our software.
We have more sites than all of our competitors combined. Our nearest competitor is 40% of our size in terms of newsagent locations installed.
We are certain of this because of independent professional market research we paid to have conducted in April/May of this year. Once we had the results of the market research, we compared our numbers with topline data from two key newsagent suppliers. This confirmed the accuracy of our numbers. There has been no slow down in sales to newsagents since April/May so the results would stand up today, just three months on.
There is a risk in being so dominant in any small business channel, especially newsagents where there is suspicion of size. On reading these numbers, some newsagents will have an anyone but Tower mindset when considering software purchase. I know some do already – they think we are too big. I suspect that this is what prompted one industry association to consider, for a brief moment, purchasing a comptitor of ours a couple of years ago.
I can understand the concern. They would not want us to dominate the marketplace. The reality is that we do dominate in location numbers. However, dominance does not equal abuse. We have been respectful of our market share for years.
We are the only software company actively reinvesting back into the newsagency channel in practical ways. Over the last eight months we have been a Gold Sponsor of the national newsagent convention, a Platinum sponsor of Queensland newsagent conferences, a sponsor of a newsagent association website initiative and the instigator and key backer of a national TV commercial promoting newsagents. There are other investments which we will not discuss publicly as they relate to tangible pro-bono assistance to newsagents in need.
We are able to reinvest in this way because of our market share.
We robustly represent newsagents to suppliers, at a state level and nationally on a range of fronts relating to IT matters. There are instances where our representations have resulted in suppliers changing their position as a result of our representation.We are robust in our pursuit of a fair and balanced IT relationship between newsagents and their suppliers. Again, our market share enables us to take this approach. Suppliers like that they can meet with one company and effectively make progress with half the channel.
Through this blog and our newsagency blog we are transparent about our actions on behalf of newsagents. This is a key reason we continue to add new locations at an excellent rate.
We are thrilled to welcome more newsagents to our community. Our commitment is that we will serve the newsagent channel respectfully, fairly and transparently.  As other software companies pull out of the market, we will help newsagents make the transition.  We will continue to reinvest in the future of the newsagent channel.
We will never forget how important our customer's businesses are to ours.