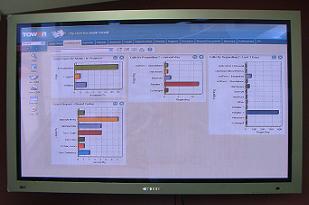 We have a large plasma screen on the wall of our main Help Desk room at our Head Office in Melbourne. This screen provides visibility of call traffic, call status, resolution rate and reasons for calls. By making this public within the office, those not involved in the Help desk are able to check the pulse of our business.
The live feed of Help Desk call traffic and other data is another way we make ourselves accountable to each other.
Our Help Desk is the heart of our business. We know that to many of our users we are only as good as our last support call. Hence the vital importance of visibility to the rest of the business on how we are performing.
While we all have access to the call status screens and other management reports through our CRM system, this plasma screen in the Help Desk is our way of making Customer Service a company-wide shared focus and not something which we each deal with individually.