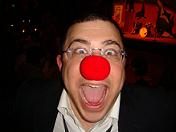 At 11am Thursday this week we are hosting a meet the expert session with Andrew Halpern, our Marketing Manager. Andrew will open with some marketing tips and then host a practical workshop on your marketing suggestions and comments. Andrew has a diverse background in marketing and is keen to share ideas with you. We are offering these sessions to help you more directly connect with our most senior people and thereby get more from your software. Participation is free.
Please book by emailing bookings@towersystems.com.au.
The red nose? Andrew was recently at a business dinner with a circus theme, everyone was given a red nose. It says something about Andrew's commitment that he wholeheartedly embraced the theme.