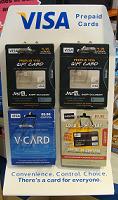 Many of our newsagent users are in the process of receiving retail packs to support the new range of prepaid visa product now available for direct sale through our software. Just in time for Christmas sales, these prepaid visa cards are a good replacement for the now collapsed BOPO card from Bill Express. There are four different products available.
We are the only software company in the newsagency channel offering direct availability of these products. The technical feat of this is considerable since we are vending direct from our software to the supplier of these products. Other software companies which may bring this to market will do so through a third party.
Getting through compliance testing for banking related products is complex and time consuming. It is a testament to the professionalism of our software development and testing team that we have achieved this.
Access to these products and the necessary software enhancement is free for all users of our current software.