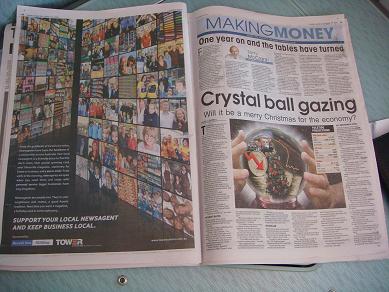 I was reading the Sunday Herald Sun on a flight to Hong Kong yesterday when I turned the page to read Terry McCrann's column and there, on the page next to it, was the full page ad we created to promote newsagents.
This is the second run of this ad in the Herald Sun. They are running it for free in support of newsagents and the TV campaign we are running using the same creative. There are two more ads to go.
Yeah, I was proud to see the ad.
I had forgotten that the ad would run in yesterday's newspaper and smiled as soon as I saw it. I know from feedback from newsagents that people are reacting to the ad. Newsagents have told me that customers mention it at the counter. One told me that a customer told them that it stopped them buying magazines at the supermarket.
This campaign is about building a better connection between consumers and newsagencies. It is also about newsagents being proud of their businesses And the roles they play.
I am pleased that Tower Systems has been able to help the newsagency channel through the campaign and I am grateful to the Herald Sun for their support.