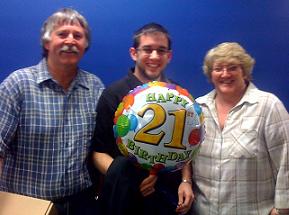 Wayne Tranter, a valued member of our installation and training team, turned 21 on Tuesday this week. To celebrate, his parents organised a surprise, a limousine to pick him up from work – we helped out in co-ordinating his roster to fit with their secret plans. Wayne turned crimson when his parents walked into the Help Desk room Tuesday afternoon unannounced.
Some of Wayne's colleagues took him to lunch to celebrate the big day.
In a practical sense, Wayne turning 21 is a big deal for us because it is now much easier to organise a rental car. Wayne travels most weeks and in many locations the rental car agencies will not rent to a driver under 21.