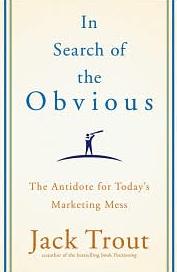 Jack Trout's In Search of the Obvious has the subtitle – The Antidote for Today's Marketing Mess. While it is that, it is much more. This is a book about much more than marketing, it is about how we make decisions at all levels in business. Unlike the books from self proclaimed gurus who chase fame on the next big thing, Trout takes us back to basics, back to reality in many respects. He calls on us to stop over thinking and to chase what is obvious – for their is no shame in simple business ideas or simple marketing strategies.
Regulars here will know that in addition to my software company I own several retail businesses and am involved in a couple of other services related businesses. I have found that In Search of the Obvious speaks to each of these businesses and many others I am sure.
This is a book I want to keep close by – plenty of pages have been marked for future reference. I highly recommend it.