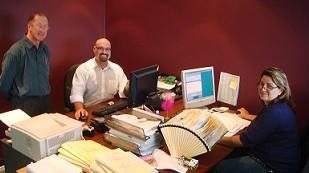 Norman, Charbel and Georgia (left to right) are our in-house accounting team. They run the financial side of our software business. They also process accounting information from our own six retail businesses using our software.
This is a terrific and practical advantage to us as it provides us with experience on our financial reporting and the MYOB link in our software.
Norman, our Financial Controller also plays a role in testing our software interfaces to MYOB and Quicken to ensure that these work from an accounting perspective.
We are unique in this regard, in using our software in such a practical way. This provides us with additional experience and comfort prior to the release of software updates.