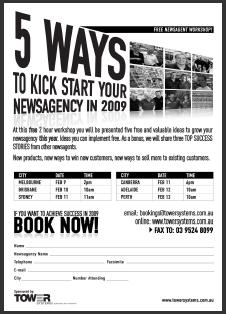 In two weeks we start our free workshops: 5 WAYS TO KICK START YOUR NEWSAGENCY.  Bookings have been excellent – we added more seats to our Sydney session yeaterday (for the second time) to accomodate interest.  We are planning to increase capacity in several venues.  The workshops are free to attend.
All newsagents are welcome regardless of the marketing group to which they belong or the software they use.   This session is about neither – it is about providing practical business building initiatives any newsagent in any sitaution can implement today.  I know it sounds like a big promise.  I am confident we will deliver.
Click here to download the flyer with dates and details.  Alternatively, book online at the Tower website – plus you can have the website update Outlook calendar.