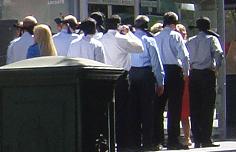 In the centre of Melbourne on Friday I saw the most bizarre thing – the group of business people in the photo and a similar sized group on the other side of the Collins Street intersection formed into two columns and put on blind folds. There were a couple of people on the side without blindfolds directing the 'troops'. While it looked like follow the leader training, I suspect it was part of a bigger program built around team or trust building.
Seeing this reminded me of school, which was decades ago, where considerable emphasis was placed on conforming. In this process, creativity was stifled.
At Tower Systems we encourage an open and respectful environment, one where individuals can be themselves. The only conforming I seek is a commitment to doing the best for our customers. How this is achieved and how an individual comes across in doing this is up to the individual.
The freedom we encourage and that which many small businesses encourage compared to corporate businesses results in greater flexibility and better customer service. This is where smaller independent software companies have it over others.
I have no interest in blindfolding the team and playing follow the leader down the streets of Melbourne. Maybe I am missing something – what I saw does not make sense.