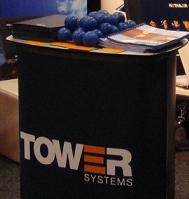 Today is the last day of the Reed Gift Fair in Melbourne.  What a Fair it has been.  To be honest, we were not sure what to expect given the doom and gloom in some quarters.
In the first three days we saw more people, made more appointments and prepared more quotes than at Gift Fairs last year.  Newsagents and Gift Shop owners have come back multiple times – our location made this easy.  People are able to build their knowledge of what we offer at their own pace – important when you are selling software.
A hit on our stand again this year has been the stress balls.  People love something to play with as they walk around the fair.  The balls are a good talking point about technology and how we make the transition easier.