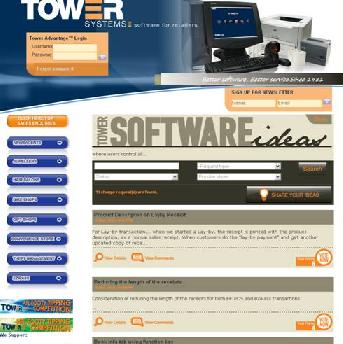 Later today we hand our customers more control than ever over our software products. We are launching Tower Systems Software Ideas through which our customers can put details of changes they would like to see in our software.
Once a change has been loaded, our Development Manager adds notes about the complexity or ease of the change and applies a cost estimate – since changes are funded out of support revenue.
Fellow customers can vote on any change, add notes and provide an indication of how soon they would like to see the change made.
Anyone visiting the website can see the title of a change request, votes and its status. Tower Advantage TM customers, those paying for software support access, can see the full details of each change request including our notes. They also get to vote.
There is one vote per customer.
Our commitment is to act on the will of our customer community. This will be done within the development budget which is funded from support fees and from sales revenue.  We are also committed to complete transparency of the process.  If a change request is knocked out by us from the outset for technical reasons, we will explain why.
We cannot find any other software developer in Australia handing their customers control and providing the transparency delivered by us in our Software Ideas facility on our website.
We want our customers to tell us what to do.  While we own six retail businesses, these are only in two of the marketplaces in which we operate.  In the jeweller, bike retail and convenience marketplaces we are reliant in our customers to tell us how to make better software.
The launch today of Tower Systems Software Ideas is as a direct result of reading Jeff Jarvis' book What Would Google Do?  I am indebted to Jeff for showing that there is a new approach to business and all it takes is trust between businesses and their customers to make this work.