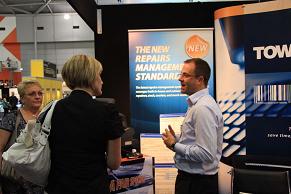 The JAA trade show in Brisbane yesterday and today is proving to be an excellent opportunity for us with plenty of prosopects and existing customers talking with us.  Business at the show has been good.
Nathan Morrison (pictured) from our Sydney offfice and Luke La from our Brisbane office were both kept busy talking with jewellers and other retailers at the trade show who stopped by our stand.
While there are differences in between the marketplaces we serve, retail is retail.  We learn tips and techniques at tradeshows like this which can have application in all marketplaces when implemented in our software.  This is why we are grateful of the opportunity to participate in so many trade shows.