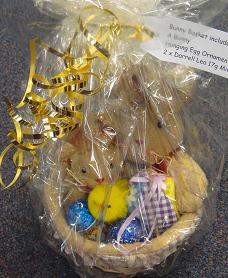 Easter is an important season for many of our retail customers.  Using our software they are able to make up gift packs from a selection of other items.  They can easily sell these under one barcode.  If they do not sell all of the gift packs they can easily undo them and return the stock to individual items.
This facility, called Manufactured Goods in our software, manages the creation and disassembly of gift packs.  It also tracks sales.
We use the Manufactured Goods facility in our own retail businesses for seasons like Easter – as shown in the photo.  It is this use ourselves of the software which has led to valuable refinements in the software to make it more useful.