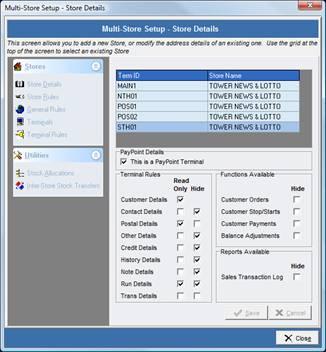 Using the pay point facility in our newsagency management software, newspaper distribution newsagents are able to have retail newsagents receive payments, enter delivery stops and starts, answer customer questions and enter new newspaper subscriptions from their businesses.  One distribution newsagency could have, for example, twenty retail newsagencies acting as their payment points using our software.  Delivery and payment management are a breeze.
The screen on the left is part of the back office management process which oversees use of pay point.  Using this screen, the distribution newsagent is able to control what each retail newsagent is able to do at their specific location.
Our retail and distribution newsagent users love our pay point facility as it helps retailers retain traffic and distributors better service their customers.  It is a key piece of technology in helping newsagents navigate structural change in their channel.
We have offered this enhanced pay point facility for more than a year – under the radar.  Other software suppliers will need to play in this space to remain relevant.