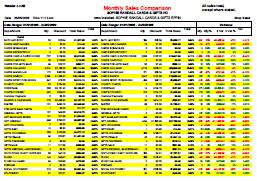 Point of Sale software is useless for any small business retailer unless it provides outcome focused reports which help drive good business decisions.
Good reports assemble data in a logical and accessible way – so they may be read by and of use to non financially trained business operators. They provide multiple views of a business so a complete picture may be determined and opportunities uncovered.
Reporting is a strong point for us. Small business retailers, their accountants, their bank managers and their business advisors tell us they like the range of reports we offer, the flexibility available in these and the decisions which can be made as a result.
We see reports as driving business goals for they are the measuring stick of success (or otherwise) and the roadmap to future opportunities. We think of these as goals when enhancing existing reports and developing new reports for users of our retail software.