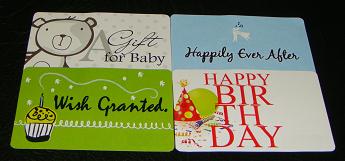 We have developed artwork for new gift cards for one group of users of our s0ftware.  While our users can create a gift voucher using our software, these beautiful gift cards take the 'gift' to a new level.  Professionally produced to credit card specification, they compare favourably with the quality you would expect to see at David Jones or Myer.
We have twelve designs in this suite and ideas for more.  The photo does not do the artwork for each card justice … yes, we are very proud.
The cards work directly and exclusively with our software.  On the reverse of each card is a unique barcode connecting it back to the value of the gift loaded.