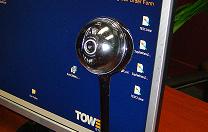 We have invested in better camera and other facilities for our online POS software user training program.  The new camera senses movement and tracks the person conducting the training – without the need for manual operation of the camera.  These enhancements are designed to improve the experience and the value of the online training for our customers.  The more people learn the more useful our software.
We are receiving some excellent feedback from the online training.  This and results we see ourselves in businesses implementing what has been learned encourages us to push our free training services further.
Watch for more training innovation from Tower Systems.  We know that the more we help our customers get from their software the more we benefit.