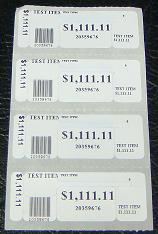 The new product labels for jewellers using our jewellery software (and gift shops) which we have sourced are saving a considerable amount for our customers.  Thanks to tough negotiating by our buyer and committing to a considerable volume, we have been able to cut the price by 70%.  This price reduction is for a better quality product. The label is, in fact, a multi-label – meaning that each label has five components, separate labels if you will, which can be used in different ways for a product.  jewellers tell us that tthis configuration is ideal  for their needs.
While supplying stationery is not core to our business, helping our customers save money from their IT investment is.  A 70% reduction in a business expense  is a proud achievement for us.
The work we have done on these jeweller labels applies to our gift shop, homewares and even high end newsagent customers – any retailer wanting attractive labels for high-end product.