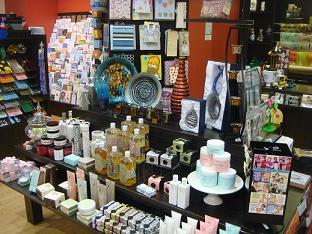 We're an unusual Point of Sale software company in that we directly own and operate six retail businesses.  Four of these are gift shops.  The photo shows a small area of one of our gift shops – Sophie Randall cards and Gifts in the Melbourne Central shopping mall.  We are using the Sophie Randall businesses as test sites for new software facilities for gift shops, newsagencies and jewellers who also retail gifts.  This way, we can play and finesse new software before testing it on paying customers.
The photo shows a small part of the usual Sophie Randall range: cards, homewares, cosmetics, social stationery, frames, albums, journals, books, collectibles and gifts.  Each category has challenges if you want to handle them efficiently, accurately and with a focus on customer service.
This is why special gift shop software is better than MYOB or one of the other generic POS software products.  Gifts are a specialist market with specialist needs – hence the importance of specialist software.
We'd be glad to show anyone through any of our gift shops and demonstrate, live, how our software is used to improve our businesses and help guide valuable business decisions.