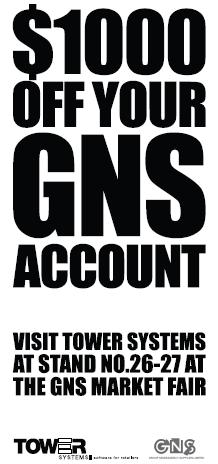 In association with the newsagent owned stationery wholesaler GNS, we are running a promotion for the GNS Market Fair this weekend in Melbourne.
Anyone purchasing a newsagency point of sale system from us at the GNS Market Fair will have $1,000 paid off their GNS account.
This means that newsagents purchasing a system from us can spend more at the Fair – picking up the good deals stationery being to this annual event.
This is a Tower Systems exclusive offer.  We are grateful to GNS for their support not only for this offer but on other IT projects for newsagents.
As a software company which has been serving newsagents for 28 years, we are always looking for innovative ways to add value to a commitment to Tower Systems.   This keeps our pitch fresh and demonstrates the evolution of our business.  We particularly like to engage in marketing which works with other newsagent suppliers.