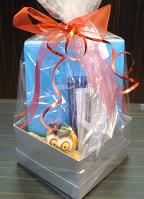 Our Point of Sale software makes selling and managing gift hampers easy thanks to our smart manufactured goods facilities. Yes, we need a better name for this cool facility.  We have been training gift shops, homewares business, jewellers and others recently on how to use our software to create hamper using multiple items.
Using our POS software, gift hampers can be sold as the complete unit (by scanning one barcode to represent all items included) or they can be broken back down to individual items.  This reversal process is easy and can be controlled at the sales register.
The retailer can also build in a labour cost component for each hamper made – to cover the real cost of making the higher value package as convenience is valuable after all.
We know from sales data that hampers are very successful for high-traffic seasons such as Father's Day, Valentine's Day, Mother's Day and Christmas. Smart retailers rely on this sales data to guide decisions on hampers to make for the next season.
We have an advice sheet available for our users wanting to get the most from our hamper (manufactured goods) facilities.