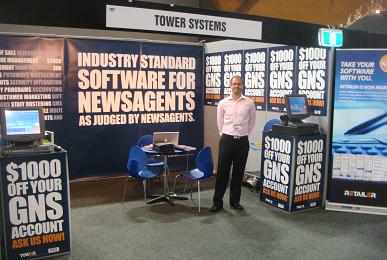 Our stand at the GNS Market Fair in Sydney this weekend has been busy with existing customers asking questions and prospective customers seeing what we do which is different.
While the hardware we had on show drew interest it was our software, a key Tower Systems point of difference, which drew the most attention. With so many innovations released in recent months we had plenty of points of difference to show off.
We have repeated our offer of $1,000 off the GNS account for any newsagent buying our software at the trade show. We are grateful to GNS for allowing us to run this promotion.
The photo features Nathan Morrison, our NSW State Manager.  Nathan is the best newsagency software sales person in the country.  This was evidenced by the warm greeting many of his customers had for him on our stand.  To have customers from years ago walk up with a smile and shake his hand shows the honsety of his process and their happiness being part of the community Nathan brought them to.
I am indebted to Nathan for his commitment to newsagents and to Tower Systems.
Access POS, a NSW based software company serving newsagents did not participate in the one trade show for newsagents in NSW this year.  This is a surprise and leaves us and others at the show wondering if they are scaling back their interest in newsagents.