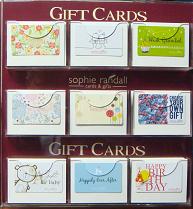 Our own experience with gift cards is helping us provide deeper assistance to our retailers using our POS software.
From the production of the quality gift cards to the in-store display to the use of our point of sale software to manage each gift card sold, Tower Systems is offering retailers a comprehensive gift card solution.
The photo shows the gift card display we have in each of our own Sophie Randall card and gift businesses. On display is the nine different gift cards we designed and had produced.
Each giftcard in the stand reflects a different gift giving occasion. We settled on the nine based on an analysis of the greeting cards we sell. While we could have easily started with a generic gift card, we wanted to test the appeal of occasion specific cards.
One of the reasons we have our gift shops is to play with ideas like this, so that we can better inform Tower customers of options in areas they may have not tried yet.
While we continue to support gift vouchers – printed directly from within our software – we have felt for some time that a more professional physical card, with a processional backing card, will drive even better sales for our retailers.
Tower Systems is proud to be leading in each of our marketplaces in the gift card area.