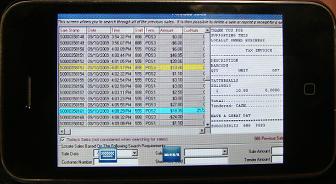 The photo shows the use of an iPhone to connect to our Tower Systems point of sale software running in a retail business to query a suspicious sale.  The warning about the sale was generated by our software by way of a secret text message, sent without the knowledge of the employees working in the retail business.  In a couple of quick clicks, the business owner can be in the software and checking the sale out – all from their iPhone.
Talk about management on the run.  This is a great tool for the mobile manager or owner.
It is tools like these for the iPhone which enable retailers using our POS software to leave their businesses knowing that they can easily connect when the need arises.
The ability to connect to the iPhone and similarly enabled devices is available to our customers for no additional cost.  We see it as a key tool for smart business management. It has many benefits beyond theft reduction.
As retailers using our software ourselves,  we know the value of mobile access back to the software running at the retail business.