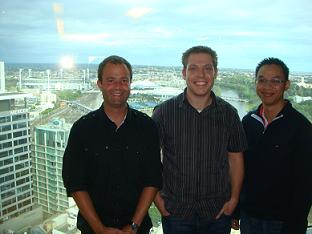 We held a meeting of our sales team yesterday in Melbourne and had a view down across the MCG, the arena of many famous sporting triumphs in this sports mad city of Melbourne.
The MGC was an excellent backdrop to our discussion about plans for the remainder of 2009 and the 2010 year.
We get the sales team together several times a year to review our direction.  This is essential given their customer contact.
Three of our team, Nathan Morrison, Tim Batt and Luke La contribute tremdously to our sales success.  Their input in our software development, customer service and broader strategic plans are important to our overall business planning.
The results of the meeting will be evident in the next couple of months.  I'm not about to forecast them here – that would take the fun of change away from competitive situations.