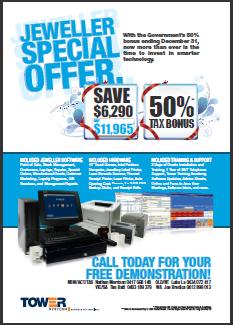 We have released a Jeweller software and hardware package deal considering installing a system for Christmas.  This offer taps into the 50% tax rebate on offer from the Federal Government which ends on December 31, 2009.
Included in the package, in addition to excellent hardware, is jeweller software covering: point of sale, warranty tracking, repairs, stock control, jeweller specific labels, customer lay-by, loyalty management / marketing, theft management, business reporting, eftpos integration, customer accounting, sales tracking and serial tracking … plus more.
This current offer is available until December 31, 2009 – coinciding with the end of the 50% tax rebate.