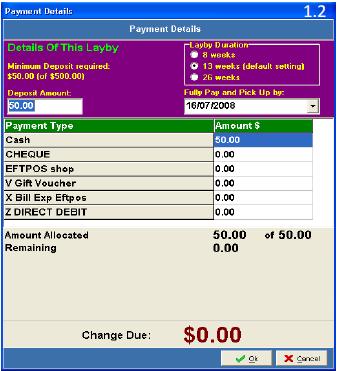 Using our smart Layby facilities, retailers using our Point of Sale software are able to easily handle part prepayment for items being ordered in especially for a customer. This helps the retailer lock in the sale even though they may not have the stock available at that time.
While our Layby software does considerably more than this, it is our handling of prepayment which is popular among our retail customers.  We have continued to finesse this facility over time, based on customer feedback.
Laybys are useful in retail because of the structure they offer and the easy management from good back office software to document and manage the relationship.  In today's environment, Laybys are an important tool.
Below is some of the advice we provide in our Layby Advice sheet. I am including it here to show the detail provide in our documentation and the ease of use of our software. The figures referred to are on the actual advice sheet:
It is possible to create a prepayment for a layby for a stock item that is not yet in Retailer. This is  particularly useful for manufactured items and items not currently in stock.

1. From the Retailer Point Of Sale screen, click on the 'Customer Payment' button or 'F11'. The Find Customer screen opens. Select an existing customer or click '+Add' to add a new customer.
2. Click on 'Pay Laybys' from the Pay Menu screen.
3. A Confirm screen appears. Click on 'Yes' to make a Prepayment.
4. A Layby Prepayment screen opens (fig 1.4.) Enter the stock description in the Prepay Stock Description Field. This description should be detailed for future reference. Enter the prepayment amount and end the sale.
5. To do a second Layby Prepayment, complete steps 1 to 3, then the Make Layby Prepayment screen opens (fig 1.5.) At the bottom of this screen you can select either '+ Add To An Existing Prepayment' to make another payment against your existing layby prepayment, or '+Add A New Prepayment' if you want multiple prepaid laybys for the one customer.
6. When you are ready to create the Layby that was being prepaid, create a Layby and find the customer as per steps 1 and 2 in the 'Creating a customer layby' instructions above. The Select Layby Prepayments screen opens. Select the prepayment and click 'OK'.
7. The Layby Details screen comes up. Select and complete the details for this Layby.
8. End the sale as usual.
Our Layby software offers excellent flexibility for this popular credit service offered by retailers. It brings structure and consistency to the processing and record keeping of Layby transactions.