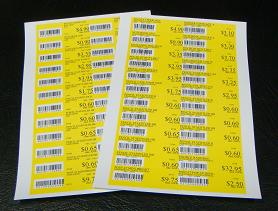 The photo shows two sheets of shelf labels printed directly from within our software.  These are printed on a laser printer on quality card stock made for the purpose and pre-perforated to make separation easy.
The labels are designed to slip into professional shelf stripping in-store.   Typically, our customers print shelf labels when arriving new stock or when processing bulk price changes.  They can also print new labels at any time.
While our users can also print one-up labels (as other systems do), most prefer these more professional labels as they reflect well on their business.  It is detail in areas like this which can separate one retail business from another.
using the setup screen for printing labels, customers can modify the look of labels printed to suit the needs of their business.