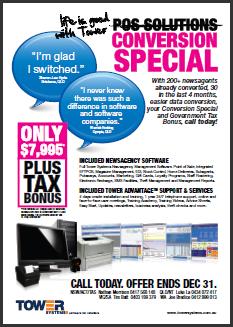 With another 32 newsagents switching from POS Solutions software to Tower Systems in the last few months, we have extended our knowledge of the conversion process and the considerable differences and this helps with the next round of conversions.  We have mailed a flyer to the remaining POS Solutions users to offer them an upgrade to Tower opportunity.  In most cases, we are delivering a newsagent software solution with a considerably lower annual support and service cost.  We are seeing POS Solutions support invoices for $3,000 – and considerably more in some cases.  We can usually cut this in half and deliver more services.
Newsagency software is a competitive marketplace.   I am happy for our software and services to be compared against those from any other company.
Our market share tells us that we are offering newsagents what they want and at a price which they like.  We have close to three times the newsagency users of POS Solutions.